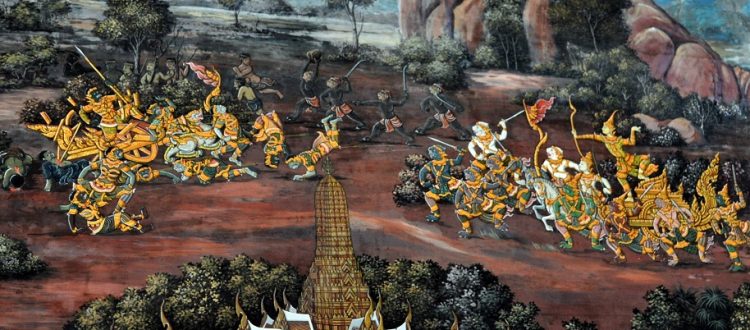 History and Inspiration of Chillax Hertitage Hotel Bangkok
Chillax Heritage Hotel Khaosan Road, Luxury Romantic Hotel near Khaosan Road. Housed in the Heritage Style Building, There are two room concepts which are Totsakan and Hanuman concepts, All room offer private jacuzzi with body massage jet heads. Chillax Heritage Hotel inspired by the Ancient History : The Era of Hanuman and Totsakan in THE RAMAYANA Epic War
In the Age of Gods : The Ramayana, holy revered text of Hindus, is believed by many archaeologists and historians to be a collection of stories from Hindu legend concentrating on the work of the gods in the lives of men, and was first written down, as legend states, in the forests of India by Valmiki in the fourth century BC. Nevertheless, the Ramayana came to Southeast Asia by means of Indian traders and scholars who traded with the Khmer kingdoms (such as Funan and Angkor) and Srivijaya, with whom the Indians shared close economic and cultural ties.
In the late first millennium, the epic was adopted by the Thai people. The oldest recordings of the early Sukhothai kingdom, dating from the thirteenth century, include stories from the Ramayana legends. The history of the legends was told in the shade theater.
The Thai version of the legends were first written down in the eighteenth century, during the Ayutthaya kingdom, following the demise of the Sukhothai government. Most editions, however, were lost when the city of Ayutthaya was destroyed by armies from Burma (modern Myanmar) in the year 1767.
The version recognised today was compiled in the Kingdom of Siam under the supervision of King Rama I (1726–1809), the founder of the Chakri dynasty, Rama I publish the art of Ramayana on the Thai Grand Palace's Wall in Bangkok, and also includes them in the grounds of the Wat Phra Kaew, the Temple of the Emerald Buddha. The walls of the Wat Pra Kaew are lavishly decorated with paintings representing stories from the Ramakien.
Since its introduction to the Thai people, the Ramakien has become a firm component of the culture. The Ramakien of Rama I is considered one of the masterpieces of Thai literature. It is still read, and is taught in the country's schools.